The World
---
print
Toontown Central

The bustling hub of Toontown is hosted by Mickey Mouse, and is where the Toon Hall, the Bank, the School House, and the Library are located. Here you can fish in the peaceful quiet of a pond, while away the hours chatting with friends in the gazebo, or simply stretch your legs on the rolling greens ... admiring the statues of some of Toontown's greatest heroes. Goofy's Speedway is also located off Toontown Central - or as we like to call it ... Toontown Central Adjacent!
back to top
---
Playground
Toontown Central has the flagship Goofy's Gag Shop for all of your gag needs, a Trolley depot with the basic versions of Trolley Games, a happening Party Gate, a Pet Shop with your basic Doodles available, and Toon HQ which never fails to keep new Toons up to their ears in ToonTasks!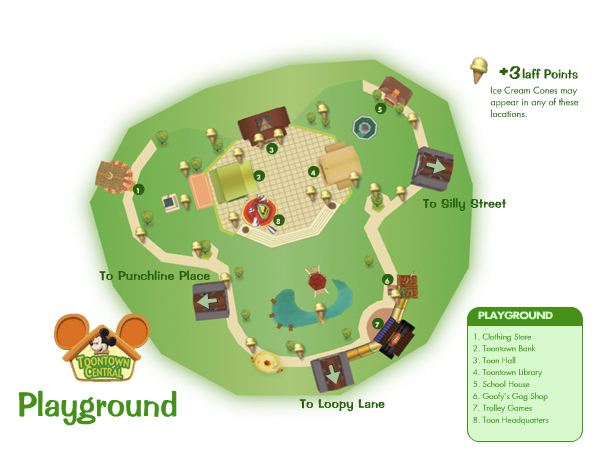 Laff item - Ice cream cones (restores 3 Laff points)
back to top
---
Streets
Silly Street
Actually, this street is more "ridiculous" than "silly" ...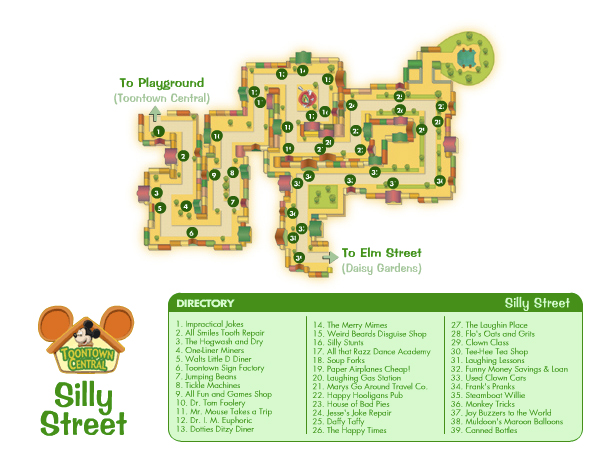 Loopy Lane
Don't let this lane throw you for a loop!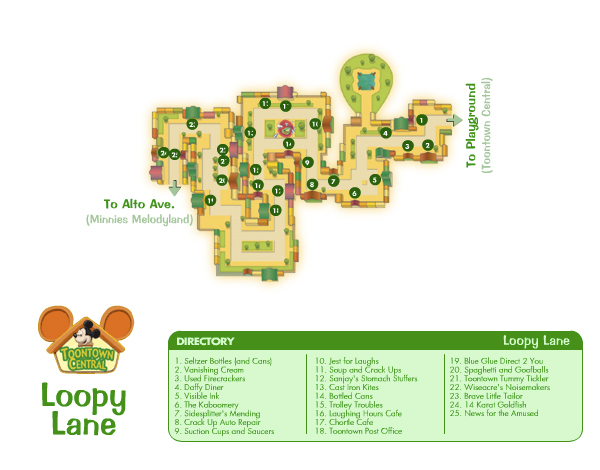 Punchline Place
Well, we know where the punch line is, but who knows the joke?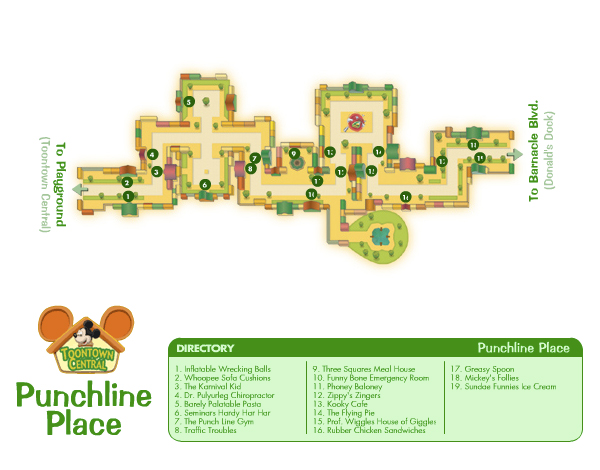 back to top
---
ToonTasks
Finishing all of the tasks offered in Toontown Central will earn you some much-needed items. Grab the "carry more ToonTasks" and "boost your Laff points" tasks as soon as you can to make the fastest progress.
Here is a list of everything you will earn by completing all of the Toontown Central tasks:
A Laff point limit of 25

Training for your third gag track

The ability to carry 25 gags

The ability to carry 50 jellybeans

The ability to carry two ToonTasks

Teleport access to Toontown Central playground

Toon Tip: Postmaster Pete will give you one of your last tasks in Toontown Central, and it's a doozy. Start making friends early to help out with this series of eight chores.
back to top
---