Activities
---
print
Goofy Speedway

Located on the west side of Toontown is Goofy Speedway - where Toons show off their hot rods and turbo-boost their Laff limit! Goofy Speedway is accessed from a tunnel in the Toontown Central Playground. When you first arrive, make sure to visit one of the helpful mechanics at Goofy's Auto Shop to get started.
Tickets are required to purchase karts and accessories at Goofy's Auto Shop and are required as deposits to race in Toon Battles. Each Toon starts with 200 tickets to buy a starter kart. More tickets can be earned by racing either Practice races or Toon Battles. Practice races do not require a deposit.
In Toon Battles, when you finish a race and meet the qualifying time, your deposit is refunded. More tickets are earned by finishing in a higher place. You can also win bonus tickets by beating track records.
back to top
---
Your Kart

Accessorize one of three kart models: Roadster, Toon Utility Vehicle, or Cruiser. You can accessorize with: paint, decals, rims, hood ornaments, spoilers, and more -- all available for purchase with tickets in Goofy's Auto Shop. Each Toon starts with 200 complimentary tickets to purchase a starter kart and basic accessories. Grease monkeys at the counter are on hand to help with your kart and accessory selection. Flaunt your stylin' ride and show off to your fellow Toons on display platforms located outside of Goofy's Auto Shop. Just walk up to them, and you will be prompted to park your kart.
Toon Tip: A special page in the Shticker book allows you to customize your kart, view personal records on each track, and display trophies.
back to top
---
How to Race
Once your kart has been purchased, you are ready to face off against your friends and earn the fastest time on Goofy Speedway's tracks: City Circuit, Blizzard Boulevard, Screwball Stadium, Corkscrew Coliseum, Rustic Raceway, and Airbourne Acres.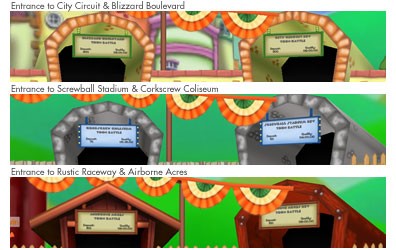 Each track can be raced either forward or in reverse and each track has a practice and race mode. Practice races are a great way to familiarize yourself with the curves and nuances of each track. The starting blocks on the left side of each track entrance are designated as a practice area. The best part: practice races don't require a deposit and you earn 20 tickets with each completed race!
Control your kart by using the ARROW keys, which allow you to brake, accelerate, and move left and right.

Once you are confident with the feel of the track, move over to a battle mode starting block and experience a bona fide race. In battle mode races, surprise gift boxes are scattered around the track and can be used to foil your opponents with anvils, banana peels, pies, and turbo-boosts. CTRL will release your current gift.
Toon Tip: Drop a banana peel in front of a turbo-boost to slow down your opponent.
Toon Tip: If you are in the lead, don't waste your anvil! Anvils always fall on the Toon in first place who hasn't already had an anvil dropped on them.

Check out the daily scores, weekly scores, and the all-time best scores from each track on the leaderboard outside of the track entrances. back to top
---
Trophies
Racing is not only fun, but can also give you a Laff boost! Toons can earn up to 30 different karting trophies - earn them all and receive a +3 point boost to your Laff limit - +1 for each set of 10 trophies! You can keep track of your progress in the Karting section of your Shticker Book.
back to top
---
Toontown Grand Prix
Every Monday is the Toontown Grand Prix! Win BIG tickets by racing in a tournament-style competition against other Toons. All day -- every Monday! Start a race at any Toon Battle starting block, and you will automatically enter one of two Grand Prix Circuits. Each Circuit will consist of three consecutive races:

Circuit One: City Circuit, Screwball Stadium, Rustic Raceway
Circuit Two: Blizzard Boulevard, Corkscrew Coliseum, Airborne Acres
Winners will be determined by total points. Points are awarded based on final standing at the finish of each race. Points are totaled at the completion of the three races.
back to top
---