The World
---
print
Donald's Dreamland

On the northern border of Toontown lies Dreamland, where all Toons retire for a well earned rest. Unfortunately, this is also where you'll encounter some of the biggest, nastiest, most dangerous Cogs. It takes skill, determination, and most of all teamwork to keep this neighborhood safe for weary Toons.
back to top
---
Playground
This place is like jumping on the biggest bed in Toontown - because it is! Check out the Trolley for the most challenging games around, then stock up at Goofy's Gag Shop. The dreamiest outfits can be found at the local Clothing Shop, and every Toon knows that the best Doodles are at this Pet Shop. Drop by the Toon HQ and wake the officers for some thrilling ToonTasks, and take a well earned break at the laziest fishing pond in town.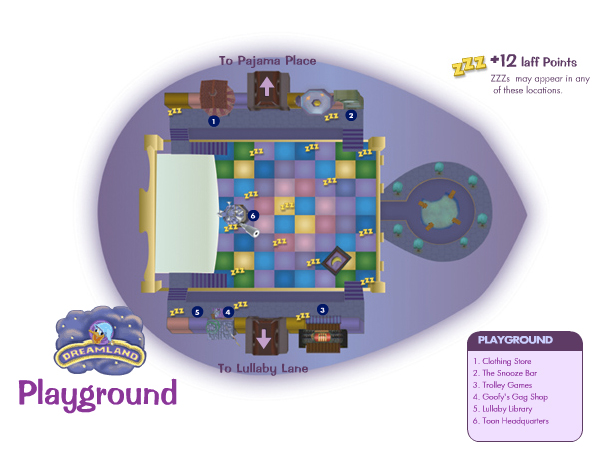 Laff item: ZZZ's (restores 12 Laff points)
back to top
---
Streets
Lullaby Lane
Sleepwalk through this street at your own risk!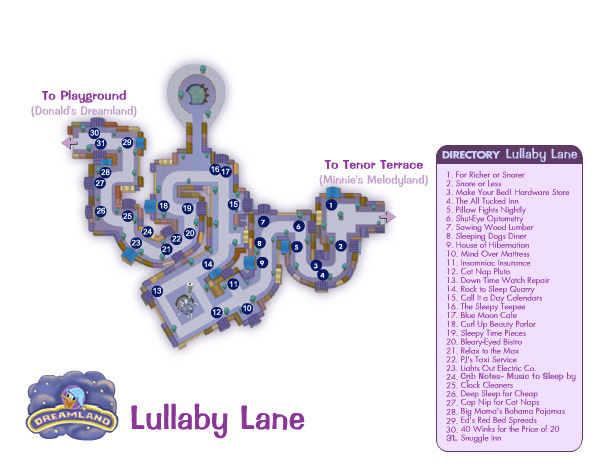 Pajama Place
You better change if you want to impress the Cogs at Cashbot HQ.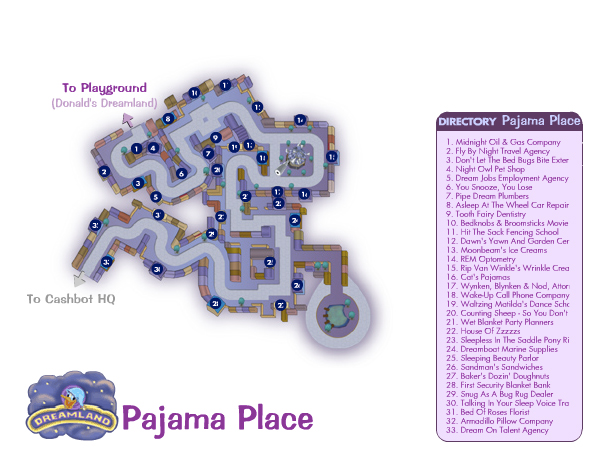 back to top
---
ToonTasks
By the time you get to Dreamland you are a Toon-guru, a Cog-crusher - a master of the marbles, a sage of the seltzer ... you get the picture. Toon HQ is pretty loose with the tasks, because by the time you get to Dreamland, you won't need a lot of direction. "Gimme the task, and it's as good as done" will be your motto.
Here is a list of everything you will earn by completing all of the Donald's Dreamland tasks:
A Laff point limit of 100

Carry 80 gags

Carry 250 jellybeans

Teleport access to Donald's Dreamland

back to top
---