The World
---
print
Daisy's Gardens

Daisy's sunny southern garden is a wonderland of greenery, flowers, and butterflies. Fish at the prettiest pond in Toontown, or find your way through the hedge maze and discover the giant, rotating blossom at its center! Low on Laff? Pluck a white daisy flower for a nice boost!
back to top
---
Playground
The Trolley games can be thorny, but well worth the ride. You can fill your gag pouch at the local branch of Goofy's Gag Shop, and rustle up a pet Doodle or a new outfit from the Clothing Store. Plus, the Toon HQ offers tasks that will really help you blossom into a more powerful Toon.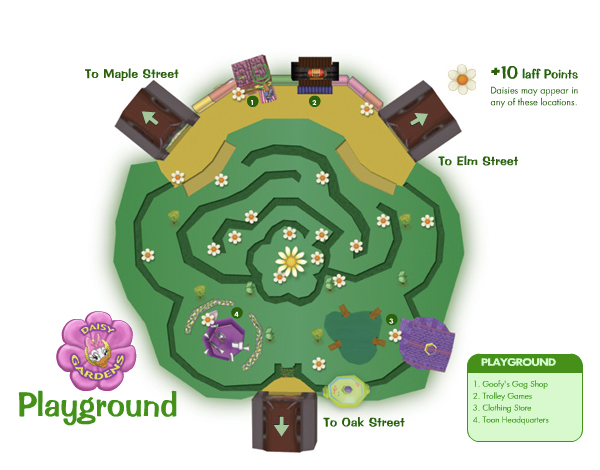 Laff item: Daisies (restores 10 Laff points)
back to top
---
Streets
Oak Street
Knot a through street -- unless you are heading to Sellbot HQ.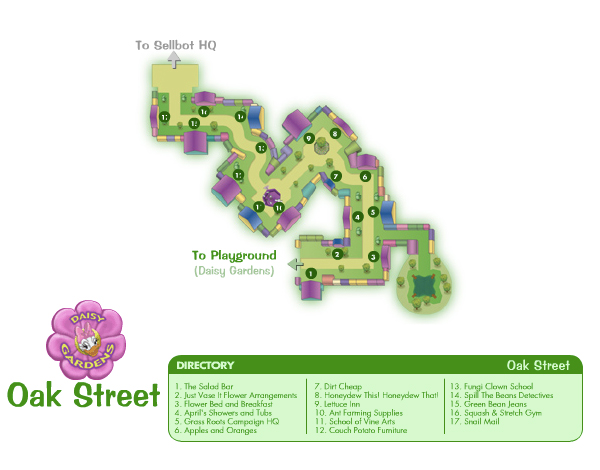 Maple Street
The shops here are sweet as can be.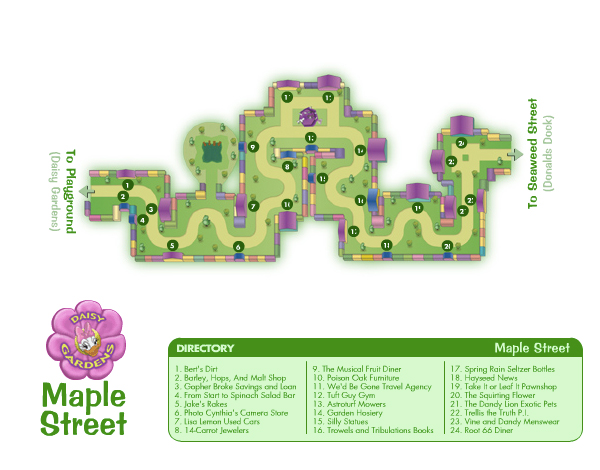 Elm Street
Leaf your mark by defeating some Cogs.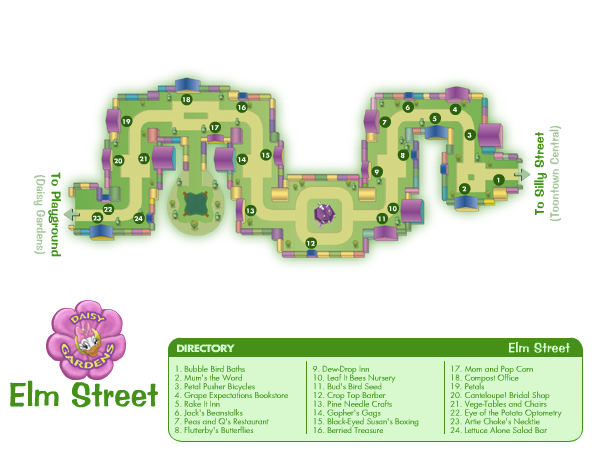 back to top
---
ToonTasks
Daisy Gardens will seem like a breeze until you are asked to recover a key or a bag of birdseed from some Legal Eagles. Those feathery Lawbots are tricky birds and only nest at the tops of the tallest Cog buildings. Try finding some fellow Toons in the playground who are working on the same task - divide and conquer to find those Lawbot buildings!
Here is a list of everything you will earn by completing all of the Daisy Gardens tasks:
A Laff point limit of 43

The ability to carry 35 gags

The ability to carry 80 jellybeans

The ability to carry three ToonTasks

Teleport access to Daisy Gardens playground

back to top
---