The World
---
print
The Brrrgh

In the far northeast of Toontown lies The Brrrgh, where it's winter all year long. Pluto is here, sniffing around the snowy fields. Look for the Brrrgh's pond and every Toon's favorite winter sport: ice fishing. Be sure to check in at the Toon HQ igloo - the officers here deal out some of Toontown's toughest tasks - almost enough to freeze you up!
back to top
---
Playground
Goofy's Gag Shop will keep your supplies filled while the Trolley will serve you some of the frostiest games this side of Toontown. Pick out a cool outfit from the Clothing Store, chill out with a new Doodle from the Pet Store, or warm up at the Toon HQ before hitting the streets for some of the most challenging ToonTasks around. You better dress warm, you may be here a while!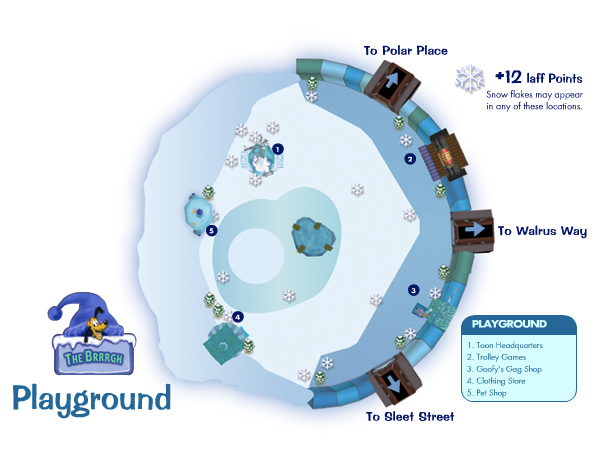 Laff item: Snowflakes (restores 12 Laff points)
back to top
---
Streets
Sleet Street
Not quite snow, not quite rain, but definitely a challenge.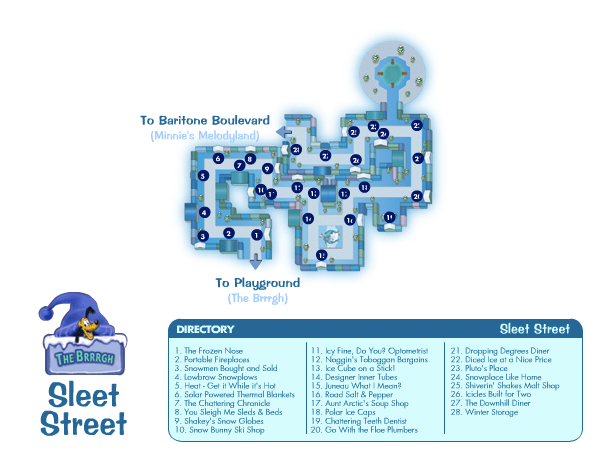 Walrus Way
No blubbering allowed!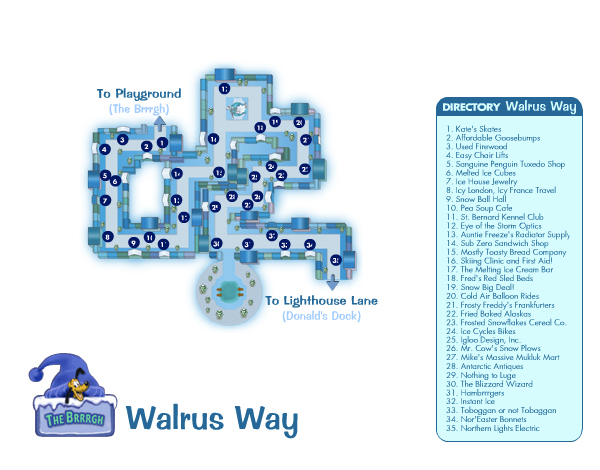 Polar Place
Beware the end of this street, as the heart of a Lawbot is a cold one!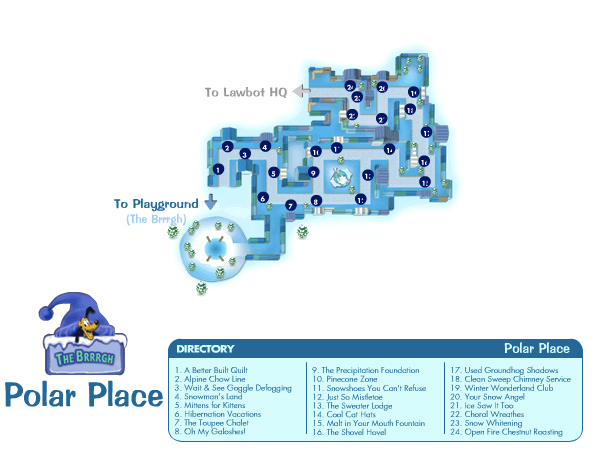 back to top
---
ToonTasks
In The Brrrgh you are sure to meet Lil' Oldman, the most legendary Toon in town. Lil' Oldman can be one tough bunny, and maybe a little peculiar, but he is a master with the gags. Like any good coach he'll work you hard, but in the end it's worth it. No pain, no gain, right?
Here is a list of everything you will earn by completing all of the The Brrrgh's tasks:
A Laff point limit of 61

Training for your sixth gag track

Carry 50 gags

Carry 120 jellybeans

Carry four ToonTasks

Teleport access to The Brrrgh playground

back to top
---