The World
---
print
Minnie's Melodyland

Listen closely and you can hear the soothing symphonic sounds of Minnie's Melodyland! Look for blue music notes resting at the feet of the towering horn tunnels for a Laff boost, and make sure to take a dip in the pond at the center of the piano key terrace. Minnie is always around, working to keep her instruments in tip-top shape.
back to top
---
Playground
Fine tune your gag skills with tasks from the local Toon HQ, or keep time with the increasingly challenging Trolley Games. Visit the Gag Shop for gags that hit just the right note, the Pet Shop for delightful Doodles, and the Clothing Shop for that pitch-perfect outfit.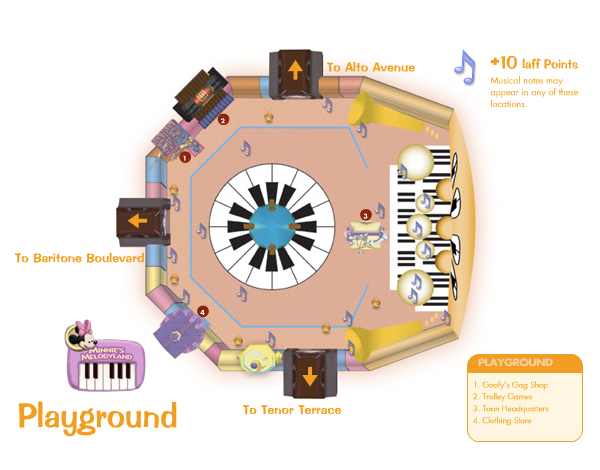 Laff item: Music notes (restores 10 Laff points)
back to top
---
Streets
Tenor Terrace
A lovely lyrical lane!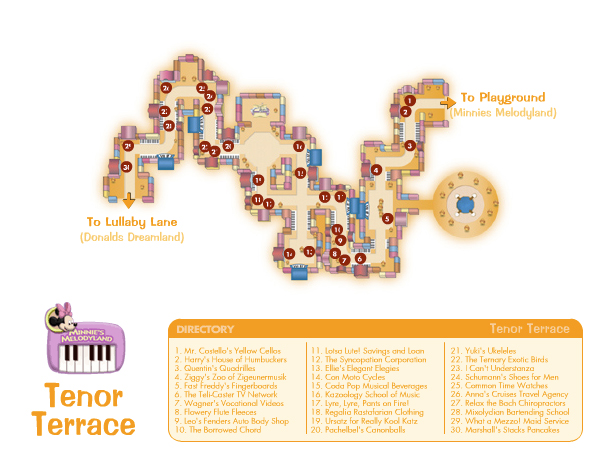 Baritone Boulevard
Business on this street is booming and deep!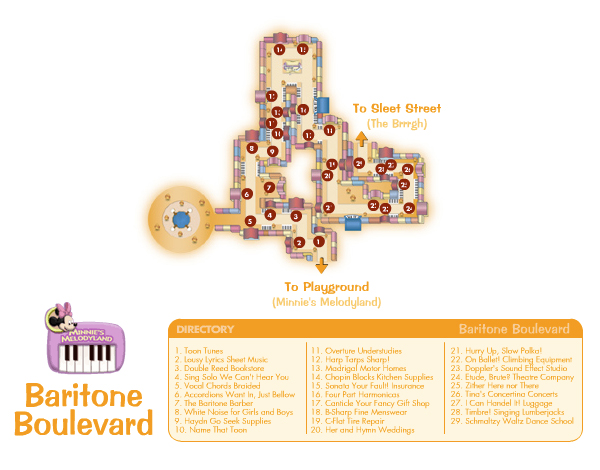 Alto Avenue
Cogs alto watch themselves here...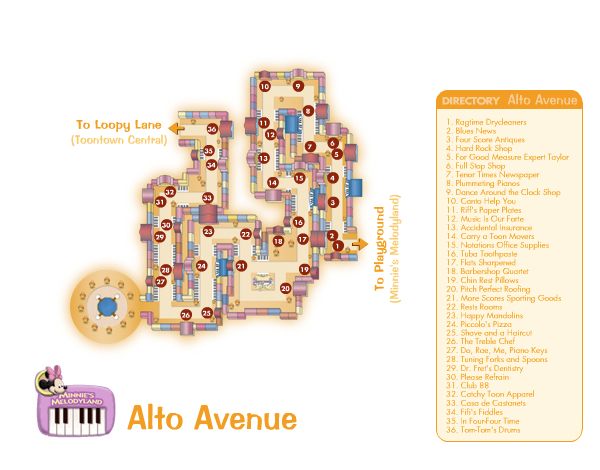 back to top
---
ToonTasks
While you're in Minnie's Melodyland, you'll likely run into Cleff at Notations. He'll probably need a whole cream pie from you - not just a slice, but the WHOLE pie. If you haven't earned enough Throw track skill points to get a whole cream pie, you'll need to get goin' with the throwin'.
Here is a list of everything you will earn by completing all of the Minnie's Melodyland tasks:
A Laff point limit of 52

Training for your fifth gag track

The ability to carry 40 gags

Carry 100 jellybeans

Teleport access to Minnie's Melodyland playground

back to top
---