Toontown What's New Blog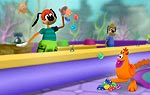 While it may seem like the news out there is all Sellbot-bad, here's something good: The last missing Doodle who chewed the wires and started OPERATION: STORM SELLBOT has been found! This Doodle, named "Sparky," was discovered outside Lawbot HQ, where he was stuck in a big hole.
Click here to read more.
Posted on January 28, 2011 to:
doodles
---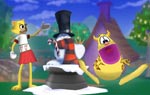 From the snowy peaks of The Brrrgh they waddled, coming to Toontown with one mission – decorate parties and Estates! The SnowDoodle is a never-before-seen Doodle breed, made entirely from snow and ridiculous articles of clothing. They eat frozen jellybeans, and the only trick they know is "Melt."
Click here to read more.
---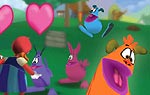 You may have adopted a Doodle with all your Jellybean Jam beans. So we want to know, how are you doing with your new or not-so-new Doodle?
Click here to read more.
Posted on November 08, 2010 to:
doodles
---