Toontown What's New Blog
A Sweet ValenToon's Day to All Toons!
Our hearts leap to wish every Toon a very happy ValenToon's Day!
We proudly present the twenty most adorable ValenToons written by your fellow Toons in today's Toon News… For The Amused!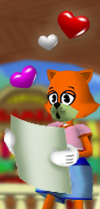 Jump into Toontown to see who won and enjoy their hilarious, heartfelt words.
We hope you enjoy a loopy and lovely time on the sweetest day of the Toon year.

If your Toon is feeling a little blue, grab a heart Toon-up!
Heart Toon-ups are worth double Laff, and will put your Toon back in the
pink lickety-split. Catch these hearty holiday power-ups floating around in Playgrounds and Toon Estates!
---
---